Lady Alopecia's Favorite Hair Growth Oil
As someone who's had alopecia for most of her life, I've tried A LOT of treatments for hair loss. And full disclosure? I used to be a big fan of dousing my head in whatever chemicals I could get my hands on. The worse they smelled, the more they stung, the more I thought they worked. I used Minoxidil (also known as Rogaine) until horrible headaches made me stop. I even got corticosteroid injections – ouch. But then I realised how effective the natural approach could be, and started searching for the best oil for hair growth, based on my personal experience.
And guess what? I'll share my findings with you here. (Yay!)
Keep reading to discover some of the best ingredients for hair growth, the brands that make high-quality, pure oils from these ingredients, plus how you can make your own salon-worthy hair oil treatments at home.
But first… a sneak peek at my very favorite oils for hair growth, and hair loss.
A Quick Look: Top 5 Oils For Hair Growth
3 Benefits of Natural Oils for Hair Loss
The oils I review in this post all offer something a little different – and some will work better than others, depending on your hair type. (Which is why I recommend trying them all out!) But they do share a few key benefits. Each hair growth oil… 
Research shows that a variety of nut and vegetable oils can promote better hair health. This 2015 study, for instance, showed that the linoleic acid contained in certain oils (such as coconut) reduced the formation of split ends in the hair and therefore the likeliness of breakage.
Avocado, jojoba, olive, almond and sesame oil are just a few more types that will deeply moisturize dry or frizzy hair, improving its texture, strength and shine. Not to mention the fact that the fatty acids within these oils will moisturize your hair far better than any conditioner, while forming a protective layer against environmental damage. Woohoo!
Of course, to promote long, strong and thick hair, you need to create a healthy foundation first. The scalp is the gateway to healthy hair and many hair loss treatments ignore this fact – with products that irritate and inflame it further. The great thing about natural oils is that they're kind to the scalp – even as they work to clean up excess sebum and debris, unblocking pores and follicles, they do so in a gentle way. How nice of them. 😉
Plus, unless you happen to be allergic to any of the oils' natural ingredients (which is rare), there are none of the negative side effects that you might get with more chemical-heavy products. 
Basically, the best oil for hair growth starts by nourishing a damaged scalp environment. Once the scalp is happy and healthy, it'll be more likely to retain the hair you've got, and allow new hair to take root.
All of the oils I mention here are antibacterial, meaning they contain elements that ward off unwanted bacteria and offer immune support. Since hair loss is often triggered by an inflammatory response to what the immune system deems as foreign invaders, anything you can do to keep the immune system in check is A Good Thing.
Many of the oils on this list – particularly, peppermint and castor oil – boost microcirculation to the scalp, allowing blood to reach the scalp faster and even widening vessels to improve blood flow. It's all part of creating that healthy scalp environment I mentioned above, giving dormant follicles a wake-up call to boost hair growth.
Review Time: 5 Best Hair Growth Oils
Now that you know how the best oil for hair growth works, it's time to look at my favorite types, and brands, in more detail. Feel free to read just these quick reviews or, if you want further info, check out the longer posts I've written about each type of oil.
Hailing from Morocco, the kernels of the argan tree are like gold dust in the beauty industry. Why? Well, because the oil they're pressed into, through a traditional and labor-intensive extraction method, is so beneficial for the skin and hair that it's also called "liquid gold". 
With a huge amount of Vitamin E and antioxidants known as tocotrienols, argan oil is one of the most moisturizing, nourishing treatments you can get your hands on. It's amazing for giving your mane a healthy shine and for treating any dry scalp conditions like seborrheic dermatitis and dandruff, too.
Main Pro: Hugely moisturizing with no harmful side effects
Main Con: The most expensive oil on this list (especially considering its small size), due to its relative rarity
Favorite Brand: Foxbrim Naturals
This is one of the most well-known natural treatments for hair loss out there. Before all the fancy brands and the new "miracle" regrowth treatments, there was castor oil. It's what I used when my bald patches expanded and I still use it now, whenever I need some extra moisture or weight to my remaining hair, which tends to get dry and brittle. 
Pressed from the beans of a tropical African plant, castor oil can be classified into Jamaican Black Castor Oil (JBCO), cold-pressed or hydrogenated – each with separate benefits.
All three types are antifungal and deeply moisturizing, with a monounsaturated fatty acid called ricinoleic acid. This makes castor oil a popular choice as a base for skincare products (customers especially love it for boosting eyebrow/eyelash growth) and it's one of my personal favorites to create hair masques or leave-in conditioners.
Main Pro: Excellent base to create your own hair care and other beauty products. 
Main Con: It's quite a thick oil, which in some cases can mat or tangle the hair.
Favorite Brand: Sky Organics
Probably the most versatile oil on this list, you can use coconut oil for cooking, to whiten your teeth, to moisturize skin and nails and of course, to improve the quality and thickness of your hair.
I love using coconut oil instead of a conditioner; I simply run a little oil through my dry ends. But I've started using it nearly every night (combined with peppermint oil) as an intensive hair masque treatment, too. I've noticed that when I do this consistently, a little white fuzz forms on my patches… so it seems to work pretty quickly! 
Coconut oil is also known for its antimicrobial and hormone-balancing properties – good news if you've got a condition like alopecia, which can be triggered by bacteria and hormone imbalance. There's really no downside to using coconut oil for hair growth – it moisturizes the hair, it soothes the scalp and it smells like holidays! Yum. 🙂
Main Pro: Get a good-quality oil and you can use it for all of your beauty (and culinary) needs!
Main Con: There are lots of cheap options out there that are much more processed. Avoid.
Favorite Brand: Viva Naturals
Like argan oil, neem oil is many a beauty expert's secret weapon – and for very good reason, too. In India, the tree that produces neem fruits is known as "the village pharmacy", thanks to its all-healing properties. And if you aren't as familiar with this golden-yellow oil as the others on this list, it's time you got acquainted!
Because neem oil, in addition to having miraculous wrinkle-diminishing and scar-vanishing qualities, is AMAZING for your scalp and hair. This is largely due to its active ingredient called nimbidin, which suppresses inflammation, plus to a bunch of nourishing fatty acids and antioxidants. And although people aren't crazy about its smell, they are crazy about everything else!
Main Pro: One of the top options for nourishing a dry scalp and improving skin quality in general.
Main Con: The smell. Some reviews describe it as "nutty", others as "strong roasted garlic". So maybe one to try out indoors… 
Favorite Brand: Milania
A small and mighty bottle of peppermint essential oil is never far away from my grasp! I use it to soothe headaches, to add a minty kick to a hot chocolate and yes, even to boost hair growth. I knew from reading the ingredients of many top hair-growth brands that peppermint oil must have more going for it than simply smelling fresh. So I started introducing the pure stuff into my own hair care – mixing it with either jojoba, castor or coconut oil and applying it as a leave-in treatment.
The results were really effective and since researching peppermint oil further, finding that in animal trials it's actually better than Minoxidil, I have even more faith in it as a natural hair loss remedy.
Main Pro: Proven to boost blood circulation and improve oxygen levels to the scalp, providing a much healthier environment for new hair to grow. Also, a couple of drops go a long way!
Main Con: Needs to be mixed with a carrier oil as the pure stuff is too strong by itself.
Favorite Brand: Majestic Pure
Buyer's Guide: What To Look Out For
Which oil is best for hair growth? Well, it depends on a range of factors, really. Here are just a few things to bear in mind when shopping for your hair oil…
What works for me may not work for you. For instance, those with dense or curly hair often rave about castor oil while those with fine, thinning hair might prefer a lighter option, like coconut.
Your dream oil may also depend on your budget. Argan and neem are both amazing oils but thanks to higher sourcing and transport costs, the end price is on the higher end of the scale… at least, it is for a great-quality version.
In all cases, the purer, the better. Many hair products will boast that they have argan oil in their ingredients list… but that doesn't mean it's the real deal. Of course, readymade shampoos and conditioners are a handy way to bring these natural ingredients to your scalp – but the very best way is to buy 100% pure, organic oil.
If you're looking for a good all-rounder oil – one you can use for cooking, skincare and haircare – then coconut is a pretty good option. Peppermint essential oil has plenty of therapeutic benefits. While neem oil can also be used in gardening for pest control! Many of these oils serve a variety of functions but the good news is, they're all good for your hair. 😉
Authenticity (color, smell, packaging, extraction)
Unfortunately, as popularity for natural oils increases, so too do companies out to make a quick buck with substandard products. So do your research on the oil before you buy (have a look at those full posts I've linked to above for help!) Check that the oil you're looking at has the color and smell it's meant to, that it's kept in a dark glass bottle (in the case of argan oil) and that the method of extraction is as unprocessed as possible – for instance, cold-pressed.
How To Apply Oils for Hair Growth
You've chosen the type of oil you want, you've selected your brand of choice and your product has arrived. Great. Now what?!
Well, you can apply pretty much all of these oils (apart from peppermint) in one of three ways:
Add 2-3 tablespoons to your shampoo or conditioner (1 tsp of peppermint, as it's more concentrated)

Apply 1 tbsp directly onto the scalp and massage for up to 5 minutes daily (not peppermint, you need a carrier oil for that)

Mix the oil with a carrier or essential oil of your choice to create a leave-in hair mask. More on those in a sec. 😉
Other Types of Oil: Carrier & Essential
Before I get into some handy hair mask recipes, I just want to flag two other types of oil that are great for hair growth. I've already mentioned them elsewhere in this post but just to give a little more detail…
These are oils that you use as a base for pure, essential oils (which are often too strong to apply directly to the skin). They usually come from nuts or seeds and use methods of extraction (like cold-pressing) to retain maximum nutrients. Your carrier can be a single oil, like castor, almond or jojoba, but for even more hair growth opportunities, try mixing a few together.
So, I've already included peppermint essential oil (PEO) on this list, And I'll do a separate post, one on the other essential oils I recommend for hair growth, soon.
All you need to know for now is that essential oils are one of the purest ways to boost hair growth, among a range of other health benefits. Whether you choose to diffuse them, smell them or use them for massages, these are amazing additions to your self-care and hair-care routines! Since they're more concentrated than carrier oils (they're distilled directly from plants), you'll usually need to dilute them to avoid skin irritation.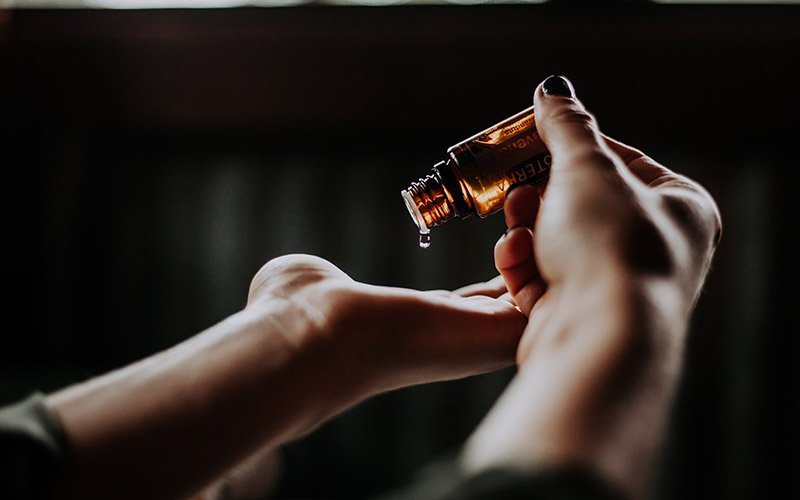 Best Hair Oil Treatments: 3 Homemade Hair Masks
I promised I'd share some salon-worthy hair treatments, didn't I? Well, I won't disappoint! Here we go: 3 of Lady Alopecia's favorite DIY hair masks, starring my top oils from this post.
1. Coconut Oil Moisturizing Mask: For Shine & Softness

Ingredients
2 tbsp extra-virgin coconut oil

1 x medium egg

1 tbsp honey

Method
Melt the coconut oil

Whisk the egg in a separate bowl

Add the oil to the egg, then the honey to both, and whisk smooth

Separate clean, damp hair into sections and massage the mixture into each section, from root to tip

Leave in for 30 minutes as you wrap your head in a towel (or a shower cap will do!)

Rinse with a nice-smelling shampoo (adding a few drops of peppermint oil if you like)

 
2. Neem and Peppermint Oil Tonic: For Hair Growth & Thickness

Ingredients
½ tsp neem oil

3 tbsps carrier oil (try a mixture of coconut and castor)

10 drops peppermint essential oil

Method
Mix all of the oils together in a bowl

Massage the tonic into your scalp and hair, rubbing in small circles, for up to 5 minutes

Leave the mixture to penetrate the hair follicles for 2 hours

Rinse with your favorite shampoo

 
3. Argan Overnight Hair Mask: To Nourish Your Scalp

Ingredients 
2 tbsp argan oil

1 tbsp special carrier oil mix*
* Made of: 15ml coconut oil, 15ml jojoba oil and 20ml grapeseed oil.

Method
Mix the oils together in a bowl

Apply the mixture all over your scalp, through to the tips of your hair. You should have a nice and thick coating of oil so double the recipe if needed.

Massage into your scalp for an additional 5 minutes, giving the oils a chance to soak in

Cover your head with a shower cap, towel or headscarf

Leave the treatment to soak in overnight

Rinse the next morning with cool water for an extra-nourishing treat to your scalp!
Final Thoughts: Time to Get Oiled Up!
In a non-creepy sense, of course. 😉
In this post, I've shared some of my best oils for hair loss, what makes them so special and how you can use them to improve your own hair growth. Feel free to read the expanded posts on each one or, if you feel like you have enough info to go on, get shopping!
Try the oils out and please, let me know how you get on! Oh, and if there's a type of oil you love using for your noggin which I haven't reviewed yet, feel free to mention it in the comments below.
Until next time!
Enjoyed my post? Then share the love – let's grow this hair-free revolution!!