My Alopecia Headscarf Story
I've had alopecia since I was 10 – after losing my mum caused me to lose my hair, too. That first small bald patch expanded during my teens, getting harder and harder to hide. Until, by the age of 21, I'd lost a good chunk of my once-signature auburn curls to a seriously receding hairline.
Headscarves to the Rescue...
At university, I covered my hairline with a stretchy headband, around 4 inches thick – at the time, it hid my bald spots perfectly. People assumed it was a style choice and headbands became part of my identity. But by my mid-twenties, my headbands wouldn't stretch far enough for a scalp which had become more patch than hair. 
I needed a complete head cover. Something secure enough that I wouldn't constantly worry about it slipping; comfortable enough that it wouldn't give me a headache.
My New Calling: Making Headscarves for Hair Loss!
When I moved to Hoi An, Vietnam in my 30s I finally found what I'd been looking for – the most beautiful range of materials that allowed me to make my own alopeica headscarves.
At first, they were just for me. But people started asking me where they could snap one up, to cover their alopecia patches or after losing their hair to chemo. Before long, Happy Headscarves was born!
After learning some cool tying styles, I started selling headscarves in bamboo (the original, and my favorite!), stretchy jersey cotton (great for cooler weather, or dressy occasions) and cotton cheesecloth material (for pretty and funky prints). They've given me so much confidence, especially on the days when I don't feel like exposing my head (and there are plenty of those!) 
Now I match my scarves to my clothes and my mood – and I hope my collection will help you embrace a new style, too! Wanna find out more about my journey into head wraps, and why I still love wearing them, even as a proud alopecian?! Then check out this post.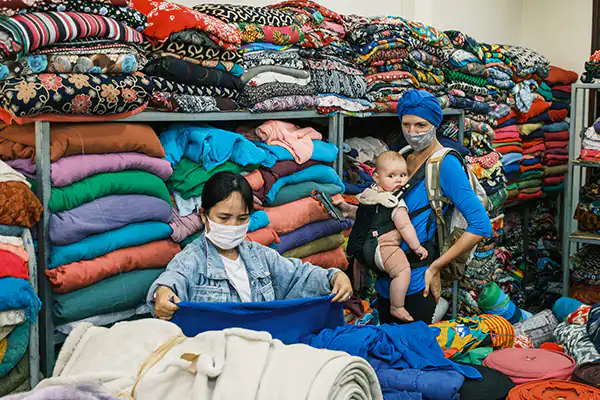 Here I am with my baby and Bee, my fabulous tailor friend (she made my wedding dress and all my festival costumes). She is my fabric guru. 
ORIGINAL BAMBOO HEADSCARF