Keranique: A Quick Overview
The Hair Loss Product That Delivers
If you're one of the 6.8 million people in the US that suffers from hair loss, or one of the 147 people worldwide who'll experience it at some point in your life, you're not alone. Obviously.
Even so, alopecia and hair loss can feel like a very isolating experience. It's hard to know what can cause it, whether it'll grow back and how you can treat it.
But that's why I'm here. Not to present "a miracle cure" – because honestly, I don't think a one-fits-all solution exists – but to share some of the most popular hair loss products and to give my honest opinion about them.
LA Says: In this post, I discuss Keranique – a product I haven't actually used regularly, but another one that my hairdresser friend, Anna, recommended for my alopecia areata. And the more I researched it, the more I felt compelled to share my findings. So that men and women with thinning hair, desperately seeking a fix, won't waste time and money by not having the full scoop.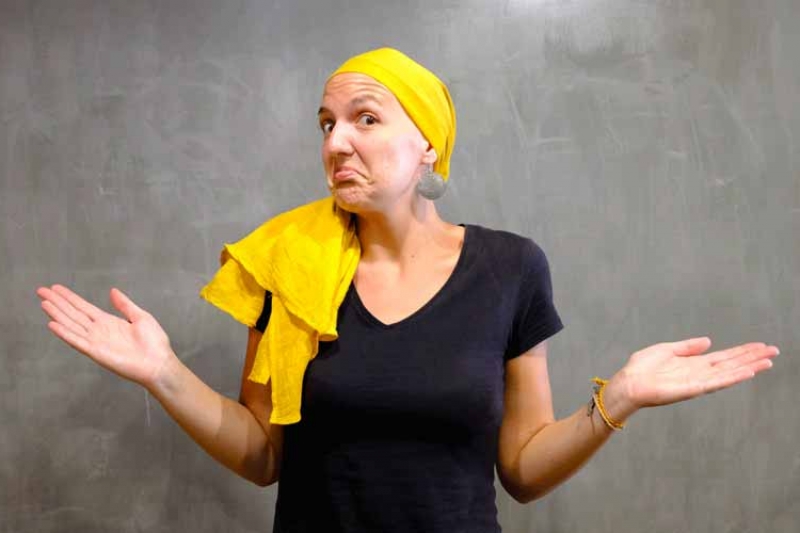 What Is Keranique? Let's Find Out!
Keranique is a line of "As Seen On TV" products that claim to help regrow thinning hair – apparently making it thicker, stronger and more manageable than before. The over-the-counter treatments, aimed primarily at women, target thinning hair and female pattern baldness.
According to my friend Anna, Keranique is one of the most popular hair loss systems around. The hair salon she owns in Dublin stocks all of its products in addition to Nioxin's range – which I talk about in this post.
On Keranique's quite salesy website, it's hard to miss the giant text boasting: "America's #1 Selling Hair Regrowth System for Women". The brand is clearly quite confident in its product, stating that the 4-piece kit thickens existing hair, fortifies follicles and encourages regrowth of longer, stronger and healthier hair in just 120 days.
Plus, Keranique even offers a 120-day money-back guarantee! How kind.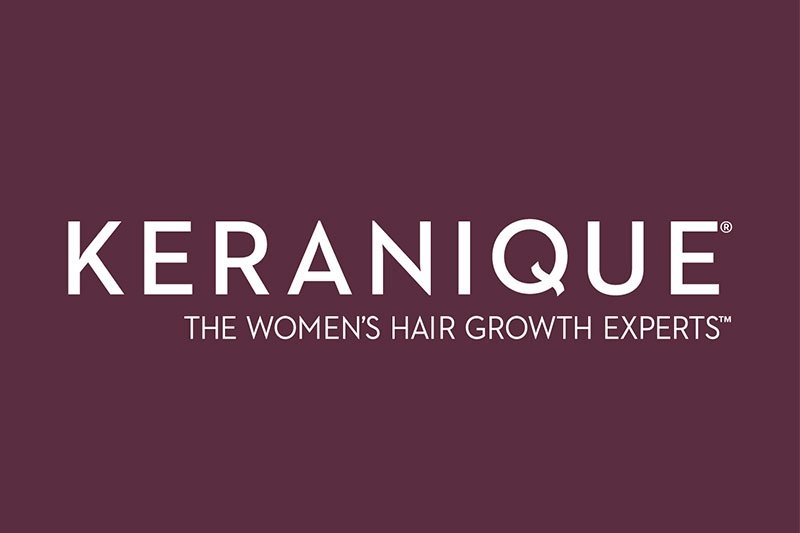 The Company Behind The Hair
Sold in online and offline retailers, from Sephora to ULTA, Norstrom.com to Amazon.com, Keranique is a fairly well-established brand. In fact, the people behind it say they've treated over one million women for thinning hair and hair loss – which is probably why they call themselves: "The Women's Hair Growth Experts".
These folks believe they've developed a sure-fire system to address and tackle the underlying causes of women's thinning hair. Good on 'em!
Still, it's a little hard to find the real story behind the glossy front of Keranique's website. The product line is sold via national infomercials – and their homepage reflects that world. It's all swingy-haired lady doctors, "before and after" pictures and "real women" gasping over the dramatic changes they've experienced in just a few weeks.
FYI, that swingy-haired doctor is called Dr Sonia Batra – who, in addition to holding a good few letters after her name, is also a regular guest host on the Emmy award-winning TV show, The Doctors. Ooh, celebrity! 😉
Maybe that's why Keranique has a distinctly daytime TV vibe, like an Oprah makeover special, or an episode of The Swan. And I don't think I'd buy into any of it if I hadn't heard such positive feedback from people I actually know!
Why I'll Cut Them Some Slack
Because apparently, Atlantic Coast Brands are the ones responsible for all the cheesy marketing. So if you're interested in trying Keranique out for yourself, don't let their salesy strategies and content detract from what appears to be a great product!
After all, you shouldn't judge a shampoo bottle by its cover. (That's how the saying goes… right?!)
Headquartered in New Jersey, Keranique LLC scores an A+ in the Better Business Bureau rating and despite very mixed customer reviews in response to its auto-renew policy, it remains a household name in hair loss solutions.
What Products Are Available?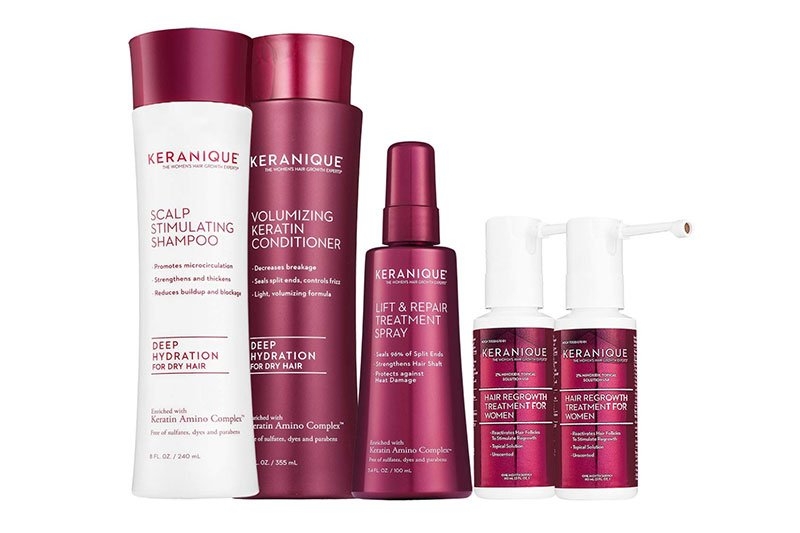 The complete Keranique system includes 4 products and a 3-step process.
Step 1 involves the first two products (the sulfate-free shampoo and keratin conditioner) to stimulate the scalp, to cleanse the hair and to provide protective moisture.
Step 2 involves a lift and repair treatment spray to add volume and fullness, body and bounce to your hair. Get ready for some serious hair tossing!
Step 3 involves a hair regrowth treatment which includes 2% minoxidil and promises "a serious solution to hair loss". (Personally, I haven't found other hair loss solutions to be laugh-out-loud funny. But maybe that's just me.)
What Makes Keranique Different?
The Keranique hair regrowth system promises a 4-pronged approach to reduce hair loss and strengthen existing hair – with products that are clinically proven to regrow hair. 
Keranique isn't afraid to make this claim, probably because their regrowth treatment contains 2% minoxidil – the only FDA-approved women's hair regrowth ingredient. So they do have science on their side; however, some of their claims seem a little grandiose to me!
Plenty of hair loss products talk about reducing the rate of hair loss. Others – like Nioxin – promote a healthier scalp environment, an ability to make your current hair look thicker. But the 4-pack Keranique treatment plan claims to do both.
LA Says: Sure, 2% minoxidil is clinically proven to regrow hair. But this FDA-approved ingredient is in other products too – like Rogaine, for instance. So it isn't unique to Keranique. And the company itself isn't FDA-approved. Still, Keranique is quick to add that they're the only company with an approved sprayer for targeted application to treatment areas. So I guess they're a little different after all.
My thoughts? The jury's out…
I've heard some great feedback from friends about Keranqiue. And I've seen first-hand how it promotes glossy, healthy locks. But because I haven't used it as a hair regrowth product – yet – I can't say for certain whether or not it will work.
I also don't love the many complaints and negative reviews that the company has clocked up thanks to its "auto-renew policy" – basically, you get a free 30-day trial and in doing so, agree to have subsequent products auto-shipped at a much higher price. (Hence the first header of this post – it really does deliver, again and again!)
So although I'd normally recommend buying through the manufacturer's site, if you're wary of their auto-ship process, you might be better off going through a trusted online retailer.
For instance, you could order through Amazon instead – but just make sure to avoid scams by ensuring the retailer has good reviews. (There are plenty of fakes out there, who actually fill Keranique bottles with different products and resell!)
Still, if you can get on board with the cheesy marketing, the somewhat spurious claims that it's "designed exclusively for women's unique body chemistry" and the reservations around its auto-ship policy, I think it's well worth a go. 
It has to be – it's won so many awards and is a salon favourite for a reason!
Let me know how you get on.
Not satisfied yet? Need some more information on Keranique? Then check out these posts:
1. Where to buy – Snap up some Keranique from a trustworthy source
2. Side effects – Some possibly harmful reactions to be aware of before you buy
3. Keranique vs Nioxin – coming soon!